RELIGION, AGAIN?
ON THE NEWSWEEK MAGAZINE ARTICLE: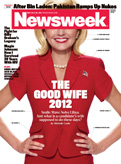 Fellow
Mittiots
I, for one, like to consider the bottom line of a man's faith - as in,
"does he have it?"
- rather than the particulars of a religion - BUT, the MEDIA, including the
Hufficrats
, searching for any way to derail the all-but-certain Romney nomination, just keep
tweakin
' the issue.
". . . But the survey also suggests that Romney's Mormon faith remains an issue. While 72 percent of Republicans and 63 percent of Democrats said they themselves would be willing to vote for a Mormon, only 45 percent of Republicans and 33 percent of Democrats said they think America is ready to elect a Mormon as president."
Hmmm
. Does everyone -
including the democrats
- know that Harry Reid, Senate Majority Leader -
yes, Harry Reid A#1 top dog democrat -
is himself a devout MORMON! Say it isn't so! How could we have allowed this to happen????
(That's sarcasm for the context-challenged).
[Sen. Majority Leader Harry Reid, exhibiting his strategy for exiting Iraq]
Do you really think THE DEMOCRATS, with their top dog member of the Church of Latter Day Saints, will attack Mitt on his being a Mormon Christian.
Not to mention the dems are well aware the only candidate running for president who happens to be Mormon is REPUBLICAN Mitt Romney. Your Mittiot's surprised any percent of DEMOCRATS would condiser the country ready for a Romney Administration.
Get real - and get off the religion angle, it's Media-made hype that just is not taking hold.
~so

Sayeth

the

Mittiot
Labels: Harry Reid, Mitt Romney, Mormon, Newsweek